Ideal for birthday, anniversary, weddings, Christmas, Father's Day and Mother's Day gifts
For that special present with a difference, why not treat your loved ones to one of our 'experiences'. That never to be forgotten experience.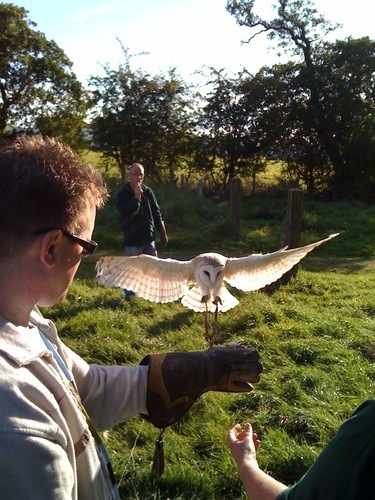 The One Hour Handling Course
Try out our one hour handling course where you will have the opportunity to experience all aspects of how to handle different Birds of Prey from Owls, Hawks and Falcons. Learn the difference between the different species, how they live, hunt, feed and breed.
With no flying involved this is an ideal opportunity to someone who may have always had a passion to handle these magnificent creatures.
Owls have always been popular with the general public. Now you can experience close up and personal just how beautiful and majestic these magnificent creatures are as you handle one of our Owls, Boswell the Barn Owl or Nugget the Bengal Eagle Owl.
Feel the thrill as you take them for a walk on your fist in the beautiful surrounding countryside and then the excitement as we have them fly to you.
For that little something extra why not try out our Hawk experience where you will have the opportunity to fly Basil our male Harris Hawk. Here we fly over open land with a touch of woodland which suits most peoples needs providing that unique hawking experience.
As Harris Hawks are well known for being the most sociable Bird of Prey they are ideal in providing that "falconry" experience for the total novice, all under Paul's expert tuition.
This is a combination of all the above, a total hands on approach to learning how to handle the birds, housing, hygiene, feeding, health, equipment, manning and training and the importance of weight management. Then fly the owls, Boswell and Nugget and the Harris Hawk, Basil and watch in awe as Paul demonstrates the speed and agility of the falcon as he stoops the falcon to the lure.