School & Educational Visits
School & Educational Visits
Educational talks to both children and adults alike
Horus Birds of Prey offers the opportunity to come and visit your School, Club or Group to give educational talks to both children and adults alike, teaching them the importance of Birds of Prey and conservation in today's fragile environment.
We bring along a selection of our birds including Boswell the Barn Owl, Nugget the Bengal Eagle Owl and Flint the Southern White Faced Scops Owl.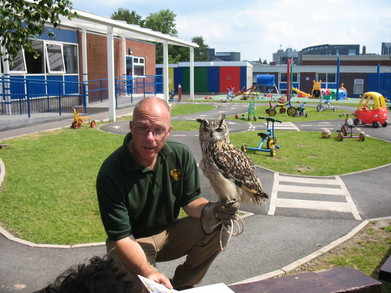 As our birds come from all over the world we cover each individual species and how they fit into their own natural environment.
We also produce worksheets for the children to answer simple questions about the birds and their lifestyles the answers of which have been discussed in Pauls talk and encourage all to get close to the birds to learn about their makeup.
For school visits we will provide a special package Key Stage 2 covering nocturnal creatures. We will use our owls as vehicles to cover this topic.